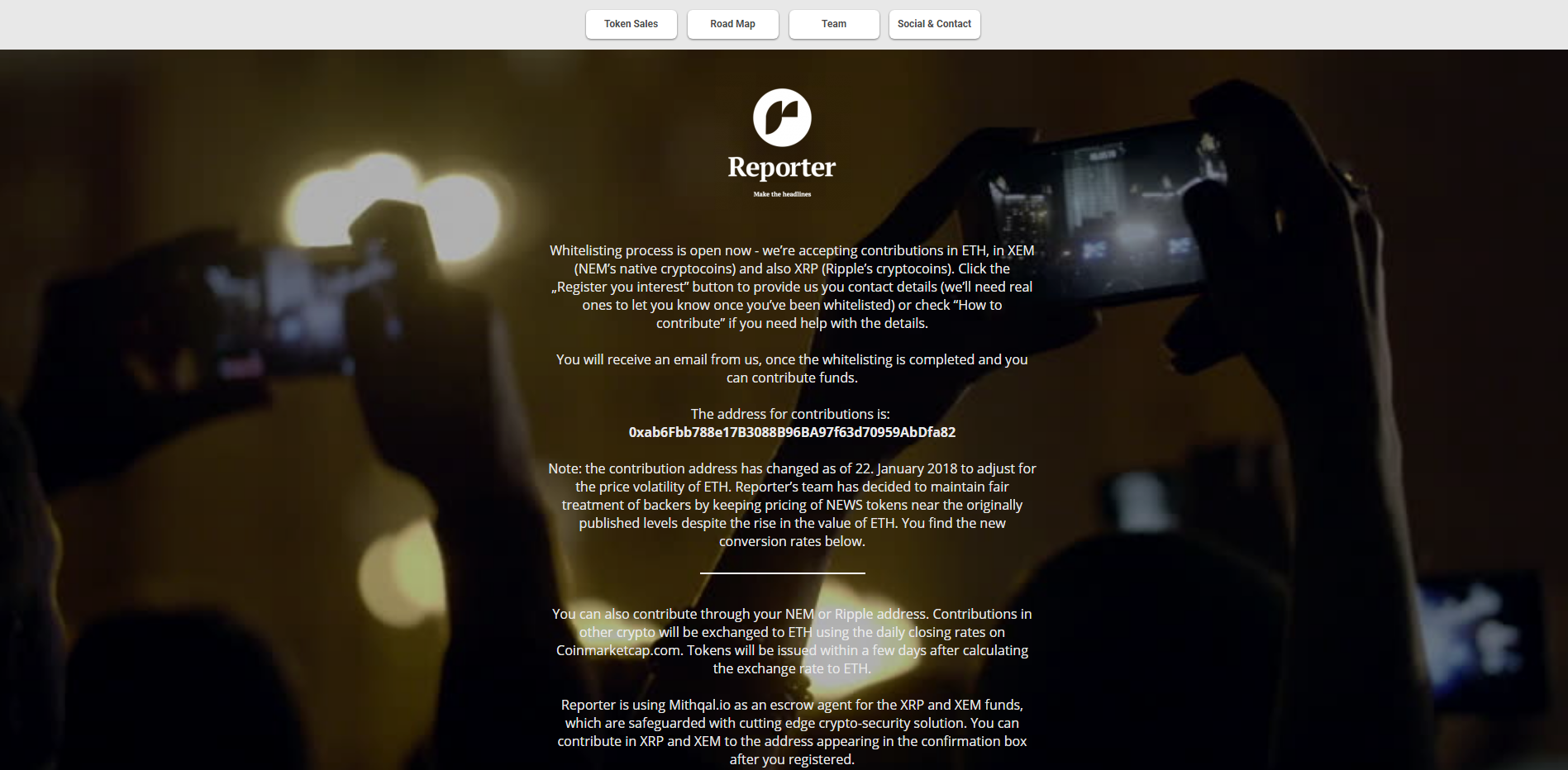 [[Template blog/front/view/coverPhotoOverlay is throwing an error. This theme may be out of date. Run the support tool in the AdminCP to restore the default theme.]]
entries
0
comments
0
views
204
About this blog
Whitelisting process is open now - we're accepting contributions in ETH, in XEM (NEM's native cryptocoins) and also XRP (Ripple's cryptocoins). Click the "Register you interest" button to provide us you contact details (we'll need real ones to let you know once you've been whitelisted) or check "How to contribute" if you need help with the details.
You will receive an email from us, once the whitelisting is completed and you can contribute funds.
The address for contributions is: 
0xab6Fbb788e17B3088B96BA97f63d70959AbDfa82
Note: the contribution address has changed as of 22. January 2018 to adjust for the price volatility of ETH. Reporter's team has decided to maintain fair treatment of backers by keeping pricing of NEWS tokens near the originally published levels despite the rise in the value of ETH. You find the new conversion rates below.



You can also contribute through your NEM or Ripple address. Contributions in other crypto will be exchanged to ETH using the daily closing rates on Coinmarketcap.com. Tokens will be issued within a few days after calculating the exchange rate to ETH.
Reporter is using Mithqal.io as an escrow agent for the XRP and XEM funds, which are safeguarded with cutting edge crypto-security solution. You can contribute in XRP and XEM to the address appearing in the confirmation box after you registered.
Visit here: http://www.reportercommunity.tech/
Entries in this blog
No blog entries have been created